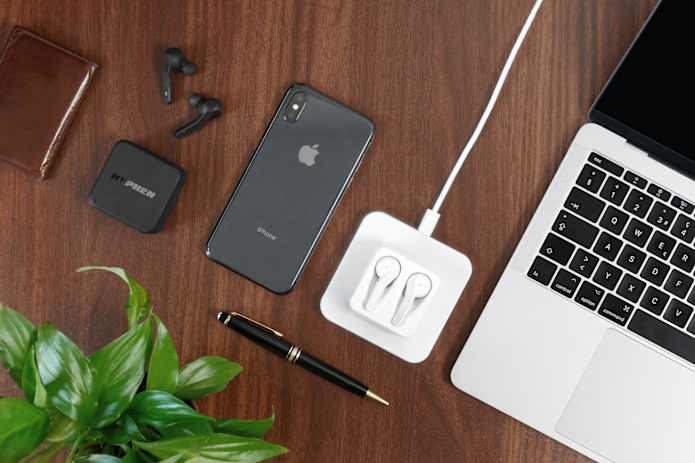 In early 2018, after testing as many wireless earbuds as we could, we found that the low priced ones had only basic features and the premium ones were very expensive.
That's when we decided to set a new standard in the wireless earbuds market, developing the most thoroughly designed product, premium in every detail, at an affordable price.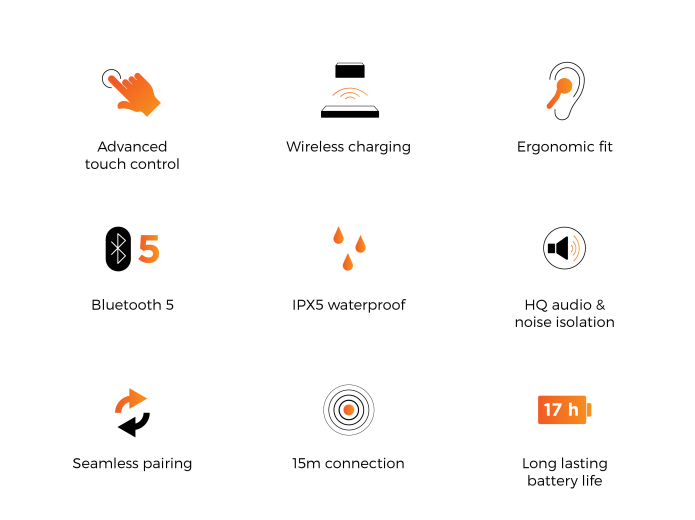 Rather than focusing on a single feature and ignoring the rest, we undertook a deep development of every detail of HYPHEN.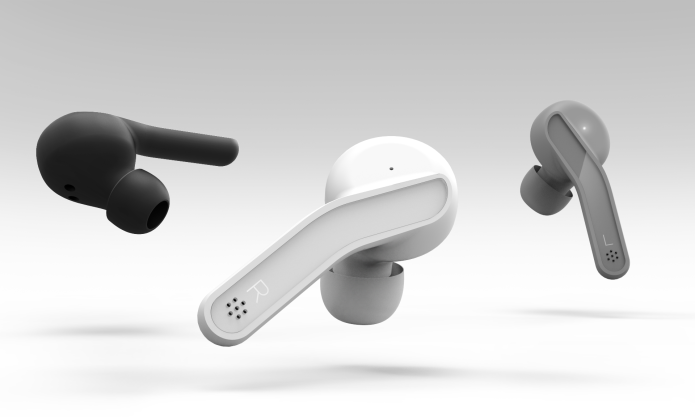 Initially, we analysed the market to isolate the features that users cared about the most. We identified the 9 main factors and their solutions.
Pairing and connection
Control
Sound quality
Listening distance
Ergonomic Fit
Battery Life and Portability
Design
Water Resistance
Integrated Wireless Charging
Once we made sure we could fit every feature in such a small budget, we set out to find the best suppliers for each component.
We then focused on creating a team of developers composed of the most experienced engineers in the fields of bluetooth, audio quality and battery life.
We have designed the gold standard of wireless earbuds, the following table speaks for itself: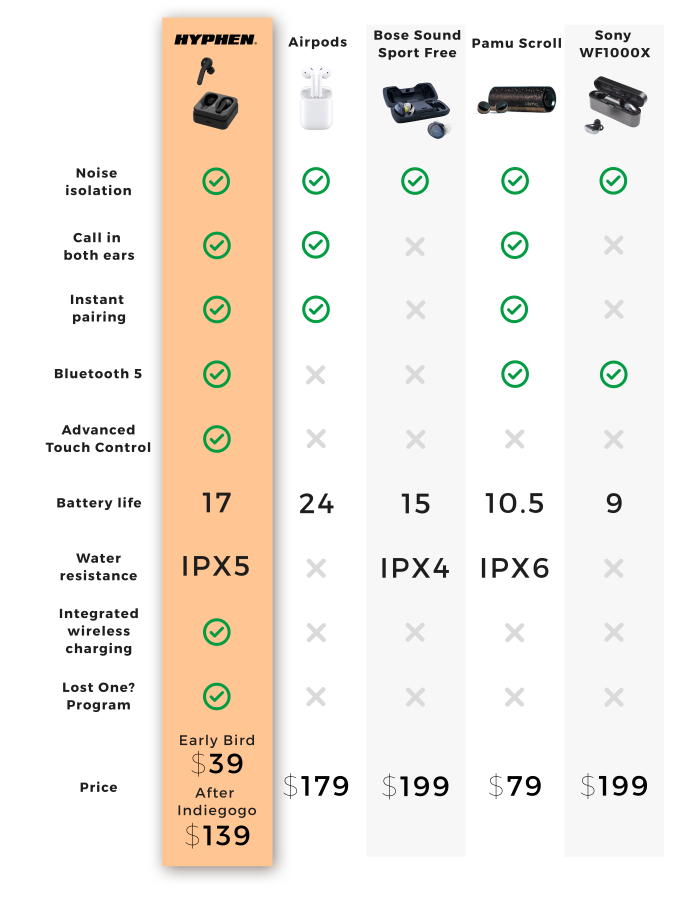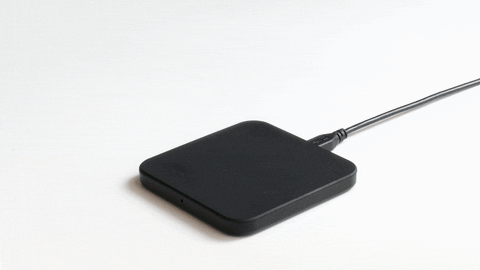 Still absent from 99% of models on the market, wireless charging is the future of portable devices. In a product that is meant to be used everyday, we couldn't ignore its convenience. No need to buy clumsy adaptors, Hyphen features integrated wireless charging.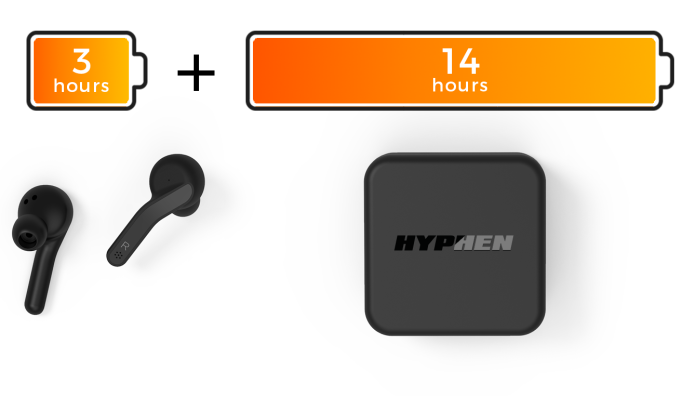 Of course battery life and size of the device are inversely proportional. Some users value more a tiny EDC product, others prefer a longer battery life at the expense of portability.
HYPHEN will let you listen for up to 17 hours in one of the smallest cases on the market.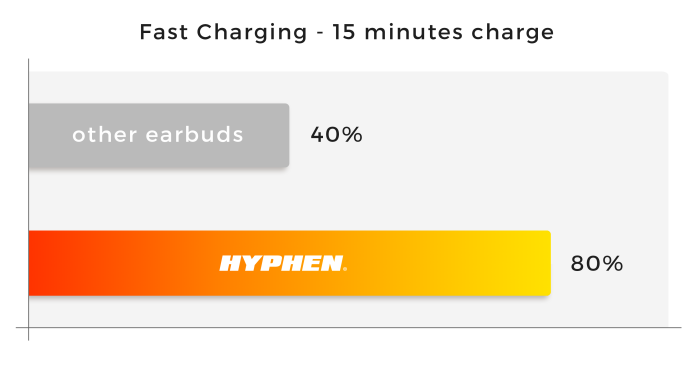 Thanks to Hyphen's fast charging technology, you will be ready to play in just 15 minutes.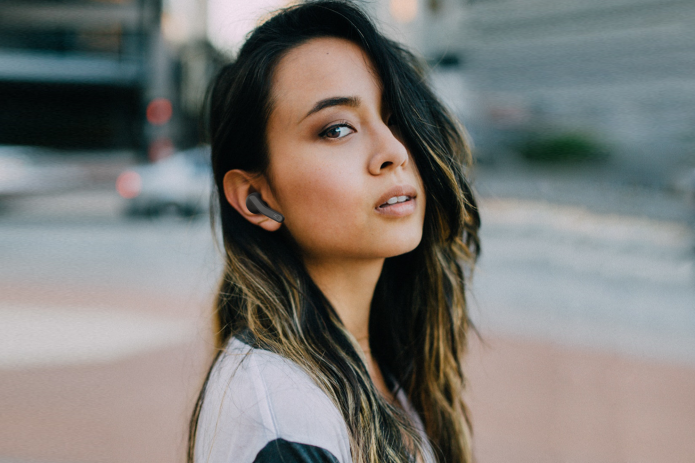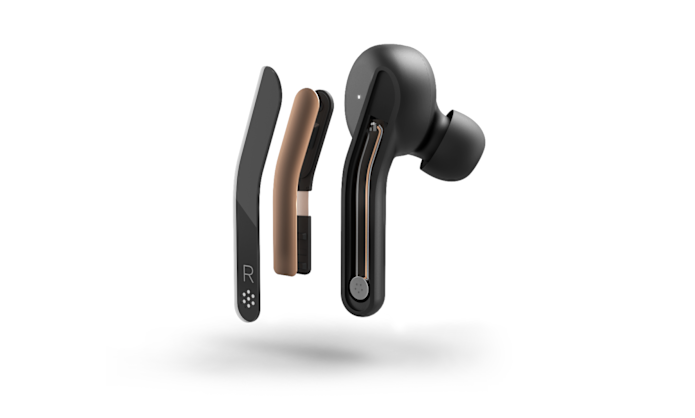 Right now, most wireless earbuds only offer limited control, such as play/pause or waking up a virtual assistant.
HYPHEN will give you a level of control over your phone never seen before. Use our Advanced Touch Control to stay off your device.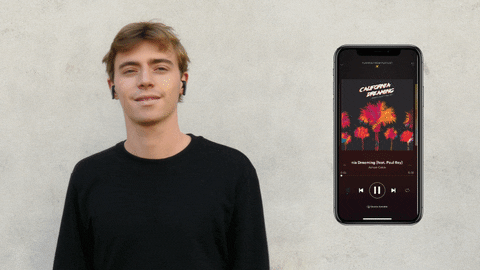 Double tap on right earbud for next song, double tap on left earbud for previous song.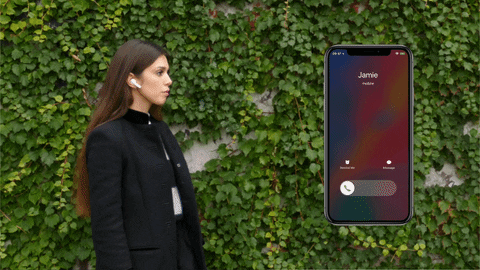 Tap to answer or hang up calls.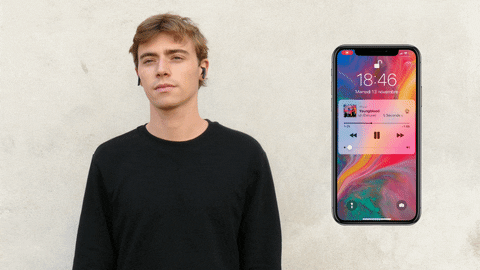 Hold on right earbud to increase volume, hold on left earbud to decreaseit.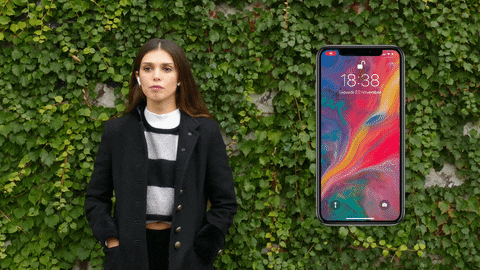 Double tap on any earbud while music is off to activate your device's virtual assistant.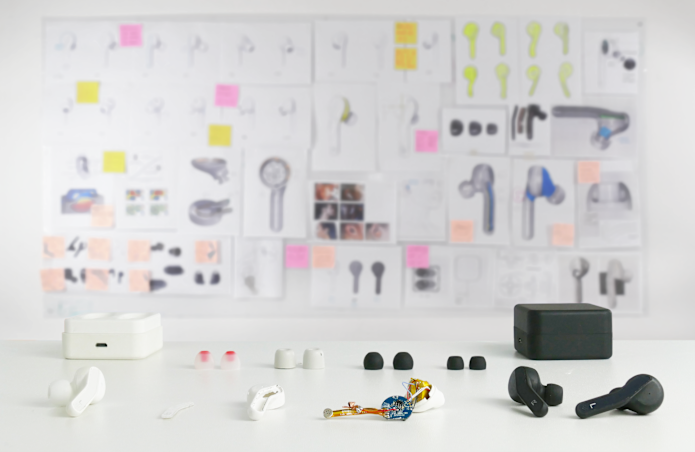 In a product that sits in your ears most of the day, an awesome design is essential. After all, nobody wants to look like an alien!
Our team worked on tens of different designs, taking inspiration from Swiss details care and precision, and Italian research for the relationship between man and object.
We settled on a combination of organic lines and acute edges, for earbuds that are perfect from a business meeting to a run in the rain.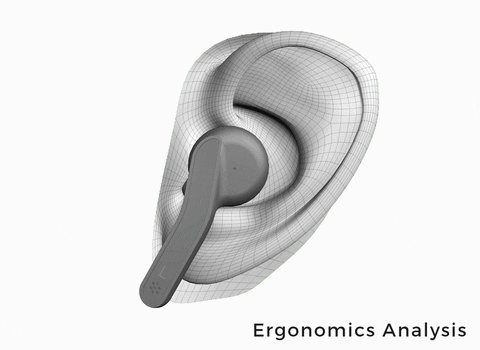 Being able to move and exercise without the earbuds falling off is crucial for a worry less experience.
HYPHEN's shape is based on the analysis of dozens of different ear shapes, to achieve the best comfort and grip in every situation. We chose a mix of soft touch plastic and a glass like surface for a pleasant feel in the ear and in the hand.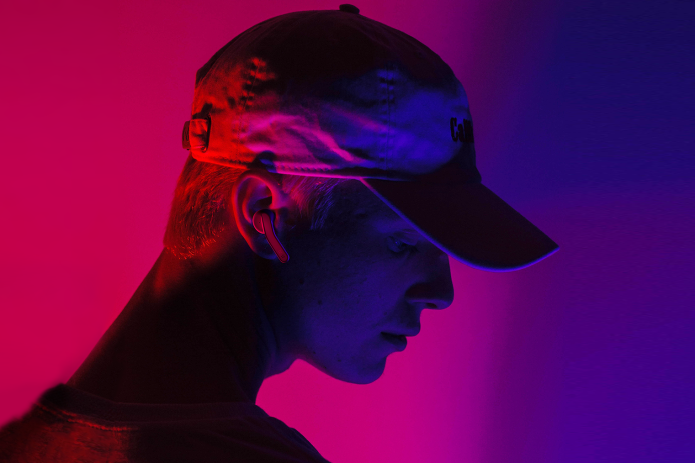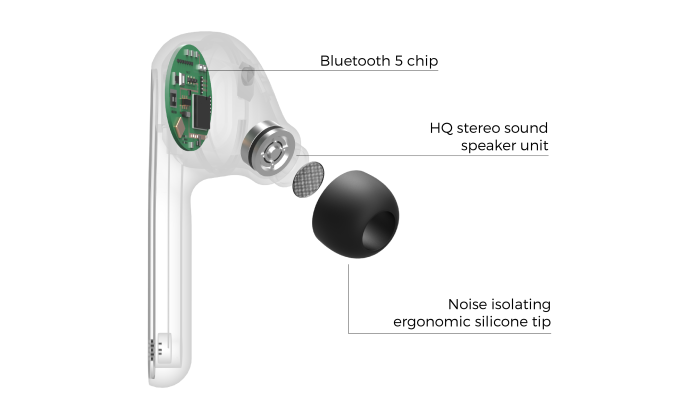 What immediately sets cheap earbuds apart from premium ones is the quality of the audio.
Thanks to the Advanced Audio Distribution Profile support, HYPHEN delivers precision-tuned sound. Our high quality speaker provides for a full-range listening experience, satisfying even at lower volumes.
Hyphen's noise cancelling ergonomic tips will give you the isolation needed for a crisp and clear audio delivery.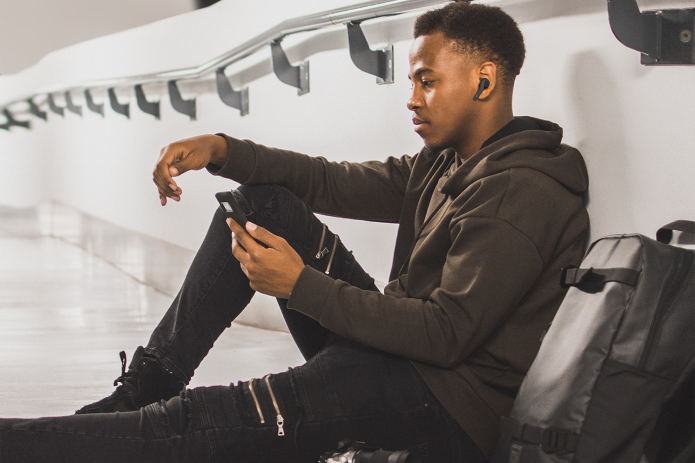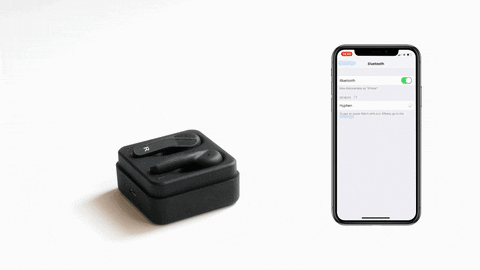 A complex pairing process is typical in earbuds that were designed with only hardware in mind. This is a common issue to both low and high priced products, and it's one of the most frustrating usability issues.
With Bluetooth 5, HYPHEN will have the most reliable connection possible, for instant pairing and a seamless communication with your smartphone. This means extremely detailed sound dimensions and zero audio-video lag.
Being able to freely move around the house while listening to music without carrying your smartphone is important for many users. That's why we have designed Hyphen to work flawlessly even at a distance of 15 meters (49 ft).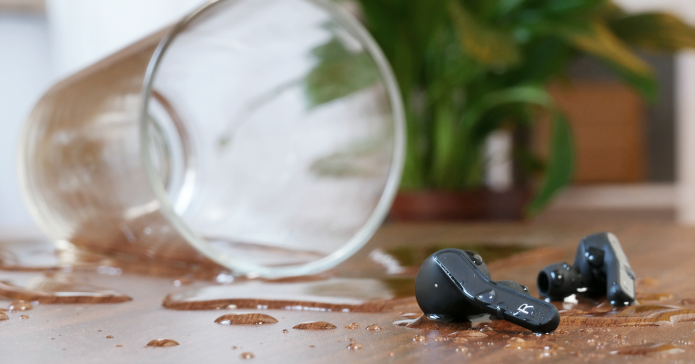 Water resistance has been absent in all wireless earbuds under $70, until now.
Never worry about damaging your HYPHEN, with a IPX5 waterproof rating you will be able to face even the worst weather conditions. There are no more excuses to skip that workout.

As this is our fourth crowdfunding campaign, we are confident we will be able to deliver a great product and without delays. Here are some feedbacks from our previous backers: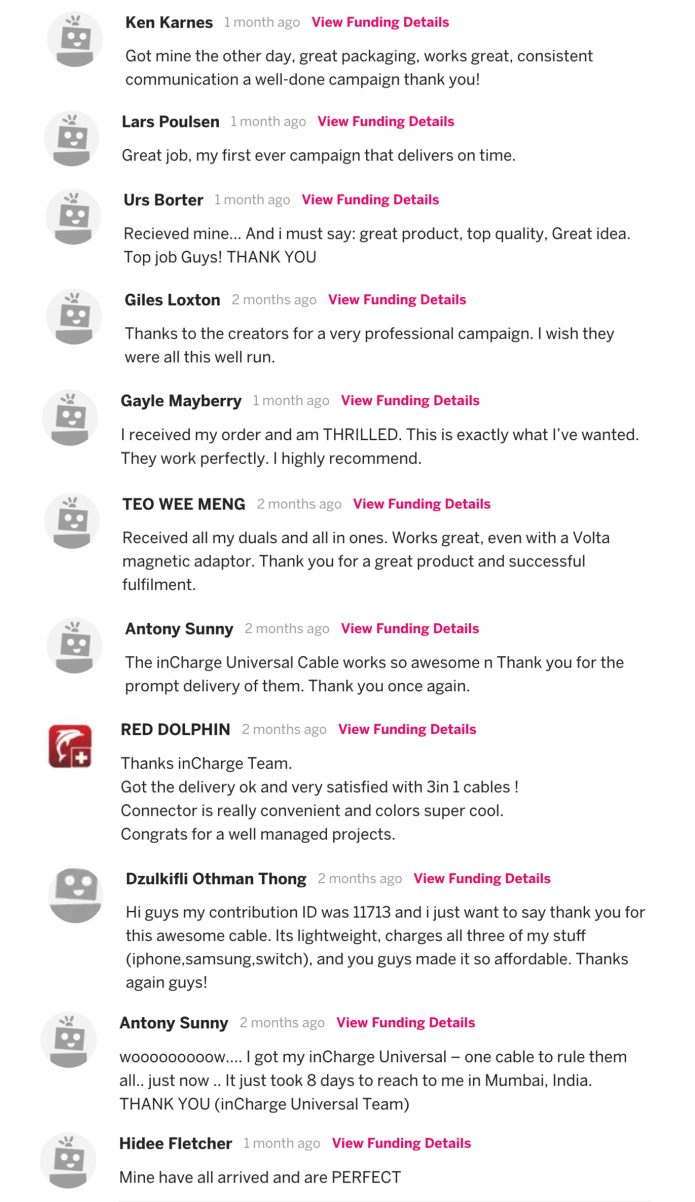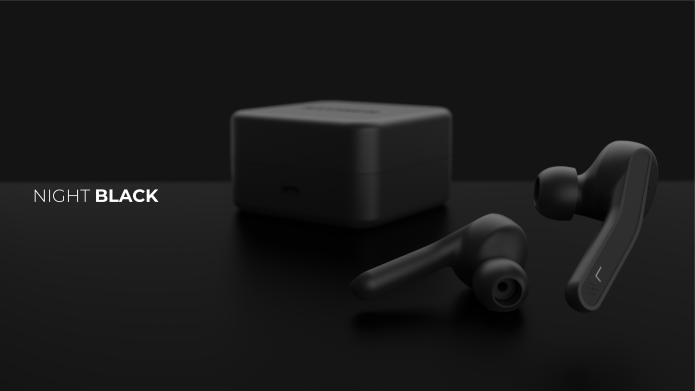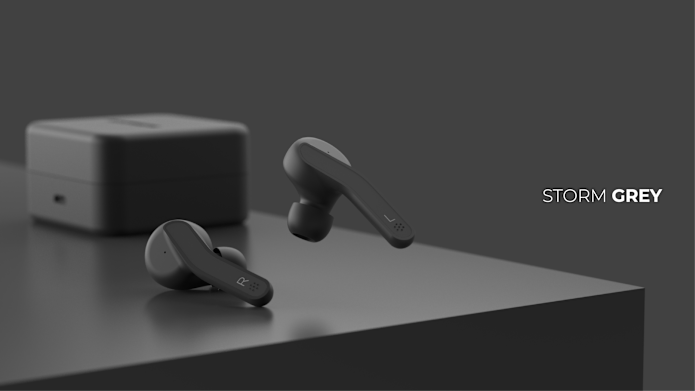 Storm Grey will be available as a stretch goal once we raise 100.000 USD!

Our ultra thin wireless charger is designed to perfectly match HYPHEN, but it can charge all of your devices. Thanks to its Qi certification, it even supports fast charging! It will be available in Night Black and Pure White.
Get it for free by referring one friend to HYPHEN!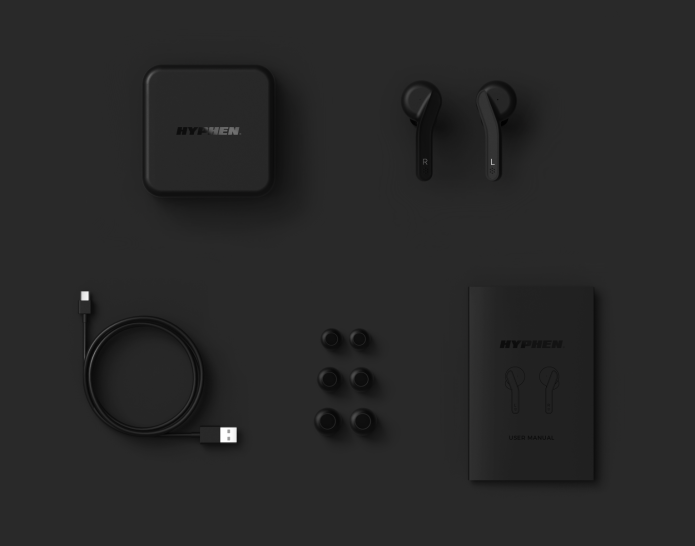 In HYPHEN's box you will find the earbuds, the charging case, a MicroUSB cable, the instruction manual and 3 pairs of ergonomic silicone tips.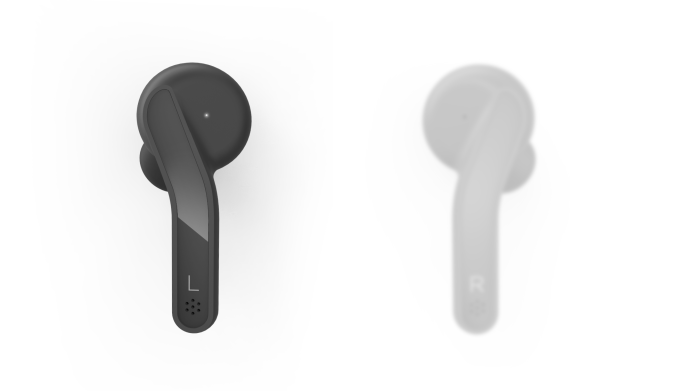 Lost one earbud? Fear not! Simply buy a replacement unit and save money while helping the environment.
BACK IT NOW and secure your pair of HYPHEN! http://igg.me/at/hyphen/x
Editor Note: I was told by the HYPHEN Team
"We are aware that the current case is not the most user friendly, and you can let your viewers know that we are currently designing a much sleeker option."

Lorenzo Larry Bonelli
I can't wait to get my hands on the new case as the current one has alot of issues to work out while we wait for that , here's my current thoughts of HYPHEN below