Today I am going to review a pair of bluetooth airpods from a website called Gearbest a strategic brand product of the renowned Chinese cross-border enterprise Globalegrow and is backed by abundant funds and resources. Suppliers on Gearbest are managed through a professional rating system to select top suppliers and optimize the procurement of quality goods, while at the same time, maintain the comprehensiveness of product categories.  The Gearbest i500 TWS costs about $31.99 USD and comes with Free shipping if bought from their USA Warehouse  , so that's all you will pay. So not bad for the price but how does it perform? That's what this review intends to show you, so read on….
Info:
Product Name: Gearbest i500 TWS Bluetooth 5.0 Earphones Binaural Stereo In-ear – White Airpods
Provider: Gearbest
The Review:
The packaging, is a box that sorta resembles the nice packaging of apple but no where on the box does it mention apple  There is no logo or website on the box or specs and other info "with wireless charging case" "i500 TWS" and of course "made in china" Inside the first thing you see is the earbuds are packed and sealed almost like apple does with their products into the retail plastic shell along with instructions that might help out but I don't think they will and really you don't need them. There is also a nice "earbud strap" which at first I didn't think it was useful but trust me if you want to go on a walk/run or clean off the car after a winter storm this strap will help you keep track and not lose your airpods this item also works with the genuine earpods too
The Gearbest i500 TWS Bluetooth 5.0 Earphones Binaural Stereo In-ear – White Airpods have a design and setup on an iPhone that is like genuine airpods but unlike the genuine ones or other bluetooth earbuds you won't be able to check the battery on your phone's control center or top upper right so you really never know how much battery is left on the earbuds even the nice apple earpod popup leaves me feeling that those battery numbers are a bit strange but on a few occasions they did seem correct but still unsure on that I wish that feature could of been worked on more .
Something nice about these the mic was surprising good for a cheap pair of look-a-like airpods I was very worried this wasn't going be the case but when I tested out some calls they indeed worked and other person heard me and when I did some test calls by myself, now I just need to get used to taking them in and out of the case which is still strange but I'll get used to it also the sound was great in my opinion I've watched many youtube videos,movies/tv shows on my devices Macbook,iPhone and iPad and there wasn't a problems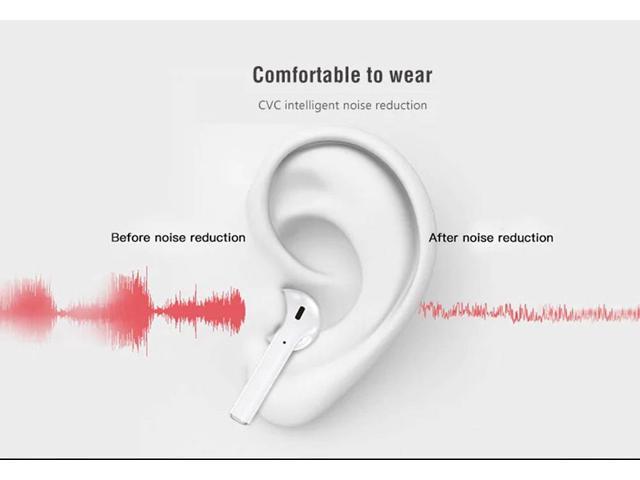 I've used these for about a month and (still do) and I found these airpods were great for watching a movie on iPad and the other services I would use on my iPhone-like Spotify/Pandora,Audible or my Amazon Music app
Now one of the reasons I like wireless charging earbuds most is I don't have to worry about carrying alot of cables with me to recharge just my wireless charging power bank if I am already using the apple lightning cable to charge my tablet and phone and let a friend use 3rd lightning cable
Conclusion:
So yes these earbuds are priced really affordable and sound great and look just like the genuine apple airpods, but is it even worth it? I would say YES! if you don't want or have loads of cash to give to apple  Besides the small battery check feature problem I didn't find any flaws  with these airpods they fit in my ears and don't come out while using them. In all I'm a happy camper with these buds